Alimentando la rivoluzione struttura digitale
Residential & Commercial customers can now bid, buy and complete a purchase anytime, anywhere via your website.
Vedere come il tasto offr apparirà sul tuo sito web
Dai un'occhiata a come stiamo trasformando l'acquisto e la vendita di proprietà.
Offr utilizza una tecnologia innovativa che consente agli acquirenti di fare offerte private, fare offerte all'asta, visualizzare libri, caricare prove di fondi, scaricare documenti legali e persino firmare digitalmente contratti utilizzando Docusign ... su qualsiasi dispositivo ovunque.
Guarda il nostro video esplicativo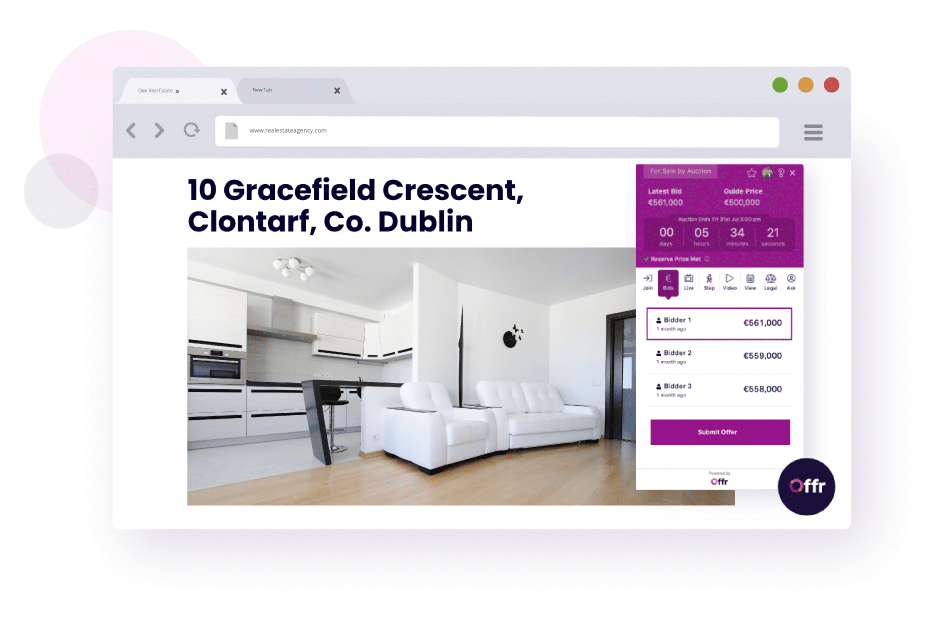 Diventa transazionale
Trasforma il tuo sito web in un sito transazionale in pochi minuti con il tasto offr completamente personalizzato ai vostri colori del marchio. Gli acquirenti possono poi organizzare visioni, luogo offre, fare offerte in aste e molto altro ancora.
Ridurre le vendite elaborano fino al 50% e aumentare la produttività
accordo agente inviato e firmato elettronicamente
Verifica 'Conosci il tuo cliente' documenti online
e-mail e risposte automatiche
Firma i contratti con Docusign
dashboard in tempo reale per monitorare i progressi di ogni vendita
Genera interesse globale
Consentire i venditori e gli acquirenti a fine Transact alla fine, on-line, da qualsiasi parte del mondo. Accessibile 24/7, non c'è bisogno di aspettare per ore di ufficio per prenotare una visita, fonte di un documento o di inserire un'offerta.
Il nostro team è qui per sostenere voi e il vostro business.
Scopri come ospitare un asta sul proprio sito web o vendere un immobile, un capo all'altro utilizzando le tecnologie digitali come DocuSign, Stripe e AWS.
Attraverso la piattaforma offr è possibile eseguire il vostro business da qualsiasi luogo!
<
Offr è per tutti
Gli acquirenti
Fai offerte e traccia il tuo acquisto
notifiche in tempo reale per le nuove offerte
Accesso ai documenti legali
Agenti immobiliari
scambio veloce
Aumentare la produttività
Differenziare la vostra azienda

Solicitors
Piattaforma transazionale end-to-end
Deposito documenti online sicuro
Semplifica la collaborazione
venditori
Ottenere il miglior prezzo possibile
Ridurre il potenziale per through caduta
Processo equo e trasparente
Il pulsante offr
Il pulsante offr siede su un sito di agenti e lanci di un pannello che permette ai potenziali acquirenti di fare offerte in aste, fare offerte sulle proprietà, visioni di libri, caricare un documento di identità e scaricare documenti legali.
pannello offr
Il pulsante offr siede sul sito web di un agente e lanci di un pannello che permette ai potenziali acquirenti di fare offerte in aste, fare offerte sulle proprietà, visioni di libri, caricare un documento di identità e scaricare documenti legali.
Fornire un servizio premium per tutti.
I venditori possono monitorare la vendita della loro proprietà su dashboard personali in tempo reale. Gli acquirenti vengono immediatamente informati di tutte le offerte, le prossime visualizzazioni e i documenti legali aggiornati. Gli agenti rimangono in contatto con gli offerenti in difficoltà e mantengono lo slancio.
Offr Panel
Punti salienti della stampa
Offr aims to remove stumbling blocks during property deals
In a sector stymied by trust and transparency issues, Offr, a new Irish prop-tech start-up, is set to revolutionise the way we buy and sell property in Ireland.
Proptech start-ups that could change the way you buy, sell and let your home
Can you remember when a property search (or even a dull Sunday) didn't involve a property portal and some armchair househunting? Technology has transformed the search and sales element of the property market, yet other tasks — such as the endless process o
'Offer management' platform to launch in UK co-founded by star agent
Created by an Irish tech firm which has recently moved its operations to London, it is backed by an investment of €1 million from two Irish banks and has been in Beta mode for the past 18 months.
Could you cut months off your deal time
Sitting on estate agents' websites, Offr will store bidders' identities and proofs of funds in advance of the acceptance of any offers, in an effort to improve the transparency of the sales process.

PropTech platform claiming to halve transaction time wins cash boost
A PropTech platform that claims to halve the time a transaction takes has received a huge cash injection from investors for its development.

BidX1 veteran Hoban's Offr accepted as he raises €3m of fresh funding
Offr, a property tech startup co-founded by former Savills and Allsop / BidX1 auctioneer Robert Hoban, has raised €3m in funding from Barclays Bank and a group of angel investors and venture capital firms.
Proptech start-up Offr secures Barclays backing for UK debut
Irish proptech start-up Offr has raised £2.7m in seed funding, led by Barclays, for its launch in the UK and Australia. Existing investors Delta Partners, on behalf of Bank of Ireland, AIB, Enterprise Ireland, The European Investment Fund and Frontline Ven

Check out the pitch deck real estate startup Offr used to raise $3.6 million in seed funding during Covid
Irish proptech startup Offr has raised a £2.7 million ($3.6 million) seed funding round from Barclays.
Offr launches digital platform in UK and Australia
Proptech company Offr have today launched its digital platform for buying, selling and leasing property in the UK and Australia.
Offr raises €3m in funding round led by Barclays
The funding round was led by Barclays, and included 30 Irish and overseas investors. The company had initially targeted €1 million for the funding round. It brings Offr's total funding to €4 million, with previous investors include Delta Partners, Frontli
Tech Talk Radio: Covid-busting fundraises
It's back to school this week, and what better way to get back into the swing of things than with EG's tech and global reporter Lucy Alderson, who spoke with Irish proptech start-up Offr's co-founder and chief executive Robert Hoban to discuss the company'
Offr, a London-based platform for real estate agents and buyers, raised $3.5 million in seed funding.
Barclays led the round and was joined by investors including Delta Partners on behalf of Bank of Ireland, AIB, Enterprise Irelan
How to sell a house in three months:new tech platform Offr cuts average time it takes to sell in half
A property revolution is promised for London from this month, in the shape of Offr, a tech platform that can facilitate wholly online transactions.

Global first: House is sold direct via a property portal listing for £560,000
A family house in Ireland is being claimed as the first in the world to be sold directly via an online auction on a property portal.The auction took place on Friday afternoon simultaneous on MyHome.ie, which is Ireland's answer to Rightmove, and the websit
Offr voted top 10 innovator by Kerfuffle
The Top 40 most innovative suppliers for 2020 have been revealed at the EA Masters. Kerfuffle was delighted to be Property Academys key partner for the session, helping with the research and accumulation of the final list.
PropTech Today: Five sessions from RE:Connect you need to watch
Developed prior to Covid, Offr has been successfully bringing agents and their customers closer together through the power of smartphone technology. With a simple plug-in to the agent's website, their customers can now instantly access everything they