Powering the digital property revolution
Residential & Commercial customers can now bid, buy and complete a purchase anytime, anywhere via your website.
See how the Offr button will look on your website
Take a look at how we're transforming the buying and selling of property.
Offr uses innovative technology that enables buyers to make private offers, bid in auctions, book viewings, upload proof of funds, download legal documents and even digitally sign contracts using Docusign… on any device anywhere.
Watch Our Explainer Video
Become transactional
Transform your website into a transactional site in a matter of minutes with the Offr button fully customized to your brand colors. Buyers can then arrange viewings, place offers, bid in auctions and so much more.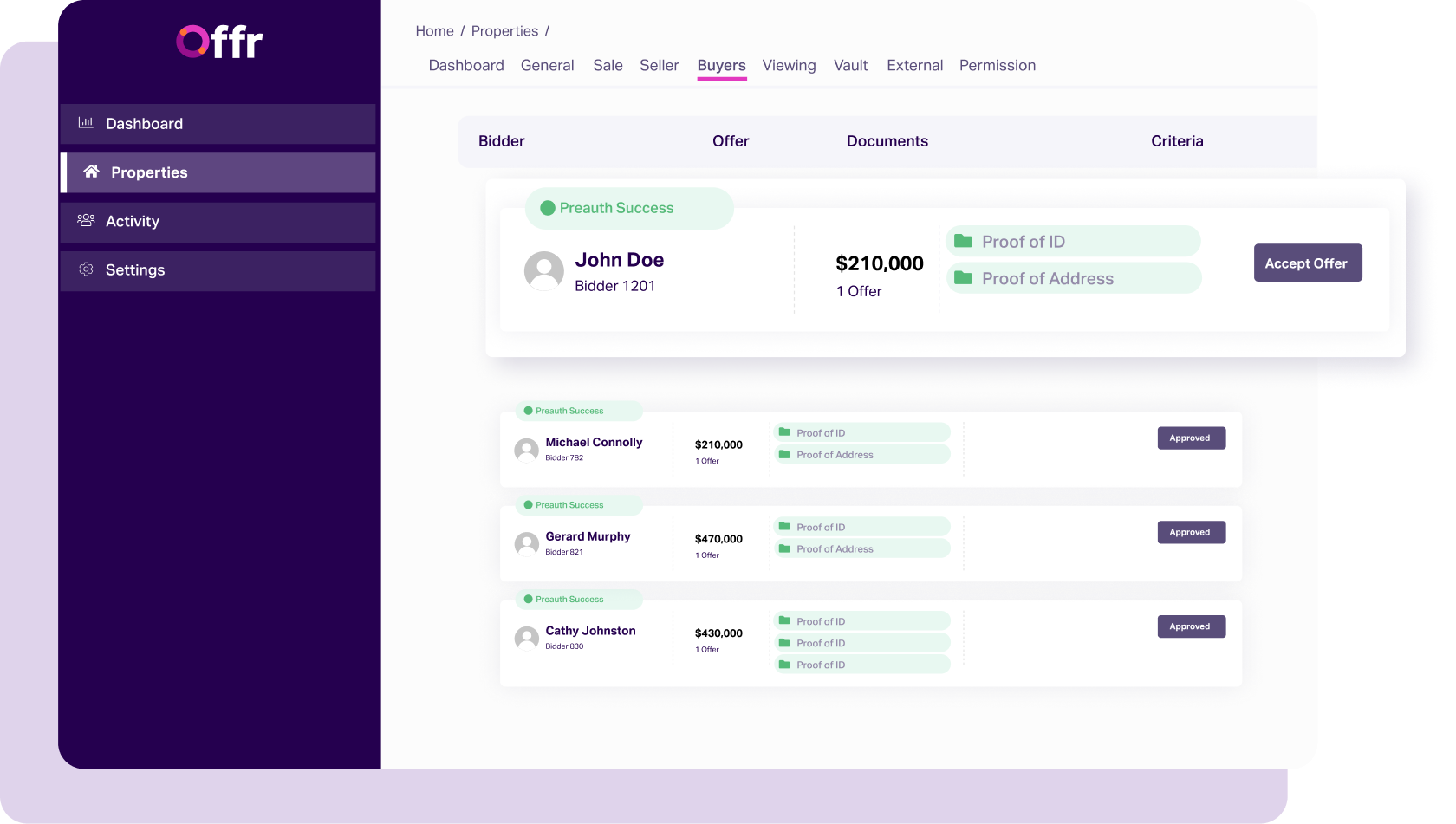 Reduce sales process by up to 50% and increase productivity
Agent agreement sent and signed electronically
Verify 'Know your customer' documents online
Automated emails and responses
Sign contracts using Docusign
Real time dashboards to track progress of each sale
Generate global interest
Allow vendors and purchasers to transact end to end, online, from anywhere in the world. Accessible 24/7, no need to wait for office hours to book a viewing, source a document or place an offer.
Our team is here to support you and your business.
Learn how to host an Auction on your own website or sell a property, end to end using digital technologies such as DocuSign, Stripe and AWS.
Through the Offr platform you can run your business from anywhere!
Offr is for everybody
Buyers
Make offers and track your purchase
Real-time notifications for new offers
Access to legal documents
Realtors
Exchange quicker
Increase productivity
Differentiate your business

Attorneys
End to end transactional platform
Secure online document vault
Makes it easier to collaborate
Sellers
Achieve the best possible price
Reduce potential for fall throughs
Fair and transparent process
The Offr button
The Offr button sits on an agents website and launches a panel which allows potential buyers to bid in Auctions, make offers on properties, book viewings, upload proof of ID and download legal documents.
Offr panel
The Offr button sits on an agent's website and launches a panel which allows potential buyers to bid in Auctions, make offers on properties, book viewings, upload proof of ID and download legal documents.
Provide a premium service for everyone.
Sellers can track the sale of their property on personal dashboards in real time. Buyers are kept informed instantly of all offers, upcoming viewings and updated legal documents. Agents stay connected with under-bidders and maintain momentum.
Offr Panel
Highlights from the press
Offr aims to remove stumbling blocks during property deals
In a sector stymied by trust and transparency issues, Offr, a new Irish prop-tech start-up, is set to revolutionise the way we buy and sell property in Ireland.
Proptech start-ups that could change the way you buy, sell and let your home
Can you remember when a property search (or even a dull Sunday) didn't involve a property portal and some armchair househunting? Technology has transformed the search and sales element of the property market, yet other tasks — such as the endless process o
'Offer management' platform to launch in UK co-founded by star agent
Created by an Irish tech firm which has recently moved its operations to London, it is backed by an investment of €1 million from two Irish banks and has been in Beta mode for the past 18 months.
Could you cut months off your deal time
Sitting on estate agents' websites, Offr will store bidders' identities and proofs of funds in advance of the acceptance of any offers, in an effort to improve the transparency of the sales process.

PropTech platform claiming to halve transaction time wins cash boost
A PropTech platform that claims to halve the time a transaction takes has received a huge cash injection from investors for its development.

BidX1 veteran Hoban's Offr accepted as he raises €3m of fresh funding
Offr, a property tech startup co-founded by former Savills and Allsop / BidX1 auctioneer Robert Hoban, has raised €3m in funding from Barclays Bank and a group of angel investors and venture capital firms.
Proptech start-up Offr secures Barclays backing for UK debut
Irish proptech start-up Offr has raised £2.7m in seed funding, led by Barclays, for its launch in the UK and Australia. Existing investors Delta Partners, on behalf of Bank of Ireland, AIB, Enterprise Ireland, The European Investment Fund and Frontline Ven

Check out the pitch deck real estate startup Offr used to raise $3.6 million in seed funding during Covid
Irish proptech startup Offr has raised a £2.7 million ($3.6 million) seed funding round from Barclays.
Offr launches digital platform in UK and Australia
Proptech company Offr have today launched its digital platform for buying, selling and leasing property in the UK and Australia.
Offr raises €3m in funding round led by Barclays
The funding round was led by Barclays, and included 30 Irish and overseas investors. The company had initially targeted €1 million for the funding round. It brings Offr's total funding to €4 million, with previous investors include Delta Partners, Frontli
Tech Talk Radio: Covid-busting fundraises
It's back to school this week, and what better way to get back into the swing of things than with EG's tech and global reporter Lucy Alderson, who spoke with Irish proptech start-up Offr's co-founder and chief executive Robert Hoban to discuss the company'
Offr, a London-based platform for real estate agents and buyers, raised $3.5 million in seed funding.
Barclays led the round and was joined by investors including Delta Partners on behalf of Bank of Ireland, AIB, Enterprise Irelan
How to sell a house in three months:new tech platform Offr cuts average time it takes to sell in half
A property revolution is promised for London from this month, in the shape of Offr, a tech platform that can facilitate wholly online transactions.

Global first: House is sold direct via a property portal listing for £560,000
A family house in Ireland is being claimed as the first in the world to be sold directly via an online auction on a property portal.The auction took place on Friday afternoon simultaneous on MyHome.ie, which is Ireland's answer to Rightmove, and the websit
Offr voted top 10 innovator by Kerfuffle
The Top 40 most innovative suppliers for 2020 have been revealed at the EA Masters. Kerfuffle was delighted to be Property Academys key partner for the session, helping with the research and accumulation of the final list.
PropTech Today: Five sessions from RE:Connect you need to watch
Developed prior to Covid, Offr has been successfully bringing agents and their customers closer together through the power of smartphone technology. With a simple plug-in to the agent's website, their customers can now instantly access everything they

Property Bidders Increase Steadily Month-on-Month
The number of bidders per property has steadily increased month on month, according to Offr, Ireland's most used property transaction platform, who have released real-time data on the property market for the first time. The data collected from January t
Testimonials From Our Customers
"We successfully bought a house in 2020, during the restrictions of Covid-19, and ever rising prices. Our confidence in existing bidding processes was pretty low, with unclear offers, unknown bidders and a huge amount of trust required in a large selection of companies we had no previous dealings with. Discovering Offr, however, was a revelation. Its provision of clear, accountable bidding gave much greater confidence in the entire process, by knowing for sure that bids were associated with a genuine bidder and to the value stated. It allowed us to approach the entire process better equipped to make rational decisions about our own bidding practices, and ultimately saved us time, money and anxiety! I would highly encourage all estate agents to adopt such a system, as it benefits everyone in the long run; companies, bidders and sellers alike"