供电的数字财产革命
Residential & Commercial customers can now bid, buy and complete a purchase anytime, anywhere via your website.
看看我们如何改变房地产的买卖。
主任采用创新技术,使购房者为私人报价,竞价拍卖,书收看,资金证明上传,下载的法律文件,并在任何设备的任何地方,即使数字签名使用的DocuSign合同...。
观看我们的解释器视频
成为交易
将您的网站变成一个交易网站与主任钮完全定制你的品牌颜色几分钟的事。然后买家可以安排看房,地方报价,竞价拍卖和这么多。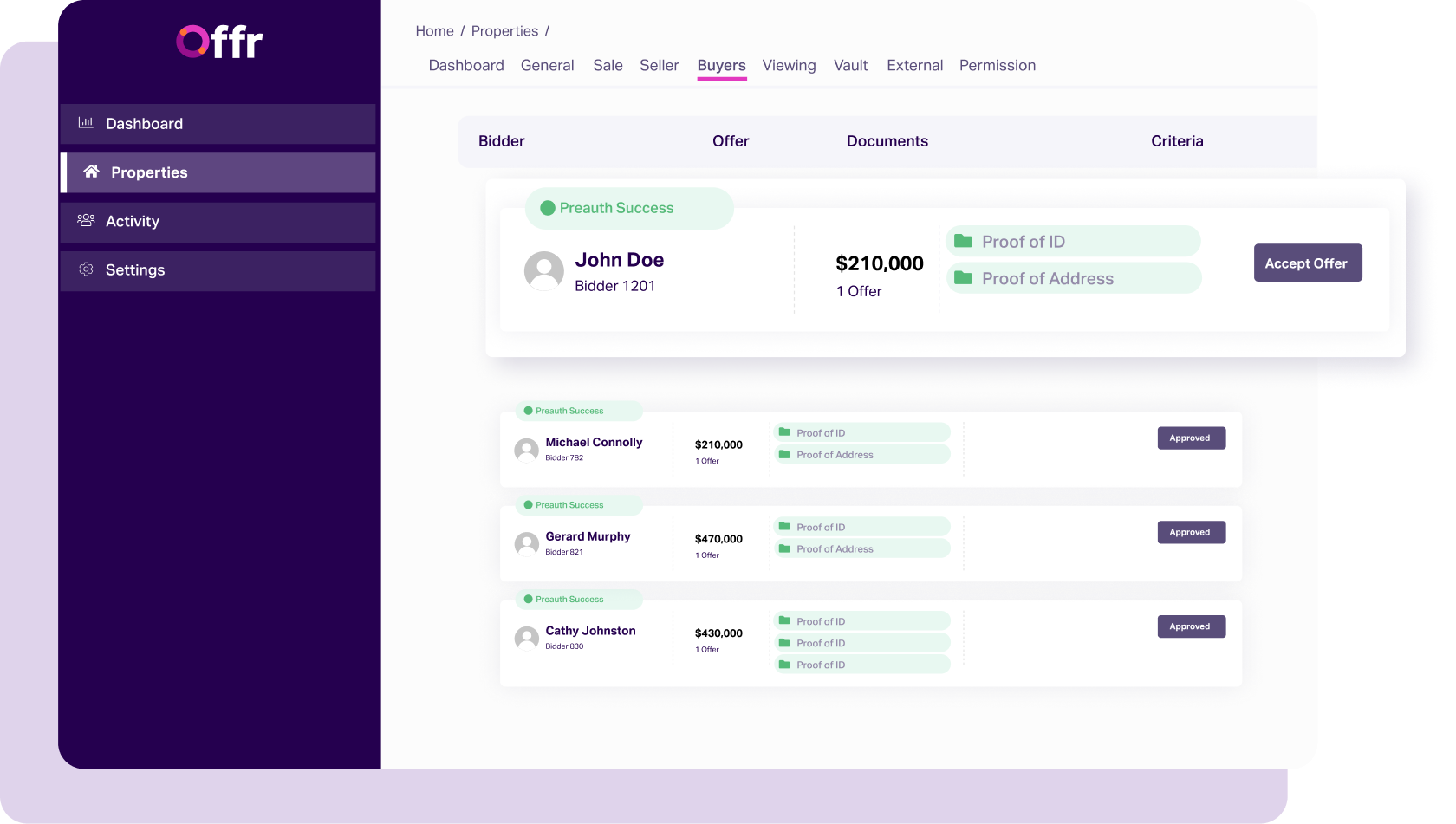 减少销售过程中高达50%,并提高生产效率
代理协议发送的电子签名
验证在线"了解你的客户"的文件
自动电子邮件和响应
使用Docusign签订合同
实时信息中心跟踪每个销售进度
产生全球利益
允许买卖双方办理端到端的,网上,从世界上任何地方。全天24小时开放,没有必要等待办公时间本书查看,源文件或地方的报价。
我们的团队在这里支持你和你的业务。
了解如何举办一场拍卖会在自己的网站或出售物业,最终采用数字技术,如的DocuSign,条纹和AWS结束。
通过主任平台,你可以在任何地方运行你的业务!
<
主任是为大家
购买者
提供报价并跟踪您的购买
新提供实时的通知
查阅法律文件

卖家
实现最佳的价格
减少跌倒得来的潜力
公平透明的程序
该主任按钮
该主任按键坐落在一个代理网站并启动面板,让潜在买家在拍卖竞标,就性能,书收看,ID上传证明的优惠和下载法律文件。
主任面板
该主任钮坐在代理的网站,并推出一个面板,让潜在买家在拍卖竞标,就性能,书收看,ID上传证明的优惠和下载法律文件。
为所有人提供优质服务。
卖方可以在个人仪表板上实时跟踪其财产的出售。立即向买家告知所有要约,即将到来的观看和更新的法律文件。特工与竞标者保持联系并保持势头。
主任小组
从新闻亮点
Offr aims to remove stumbling blocks during property deals
In a sector stymied by trust and transparency issues, Offr, a new Irish prop-tech start-up, is set to revolutionise the way we buy and sell property in Ireland.
Proptech start-ups that could change the way you buy, sell and let your home
Can you remember when a property search (or even a dull Sunday) didn't involve a property portal and some armchair househunting? Technology has transformed the search and sales element of the property market, yet other tasks — such as the endless process o
'Offer management' platform to launch in UK co-founded by star agent
Created by an Irish tech firm which has recently moved its operations to London, it is backed by an investment of €1 million from two Irish banks and has been in Beta mode for the past 18 months.
Could you cut months off your deal time
Sitting on estate agents' websites, Offr will store bidders' identities and proofs of funds in advance of the acceptance of any offers, in an effort to improve the transparency of the sales process.

PropTech platform claiming to halve transaction time wins cash boost
A PropTech platform that claims to halve the time a transaction takes has received a huge cash injection from investors for its development.

BidX1 veteran Hoban's Offr accepted as he raises €3m of fresh funding
Offr, a property tech startup co-founded by former Savills and Allsop / BidX1 auctioneer Robert Hoban, has raised €3m in funding from Barclays Bank and a group of angel investors and venture capital firms.
Proptech start-up Offr secures Barclays backing for UK debut
Irish proptech start-up Offr has raised £2.7m in seed funding, led by Barclays, for its launch in the UK and Australia. Existing investors Delta Partners, on behalf of Bank of Ireland, AIB, Enterprise Ireland, The European Investment Fund and Frontline Ven

Check out the pitch deck real estate startup Offr used to raise $3.6 million in seed funding during Covid
Irish proptech startup Offr has raised a £2.7 million ($3.6 million) seed funding round from Barclays.
Offr launches digital platform in UK and Australia
Proptech company Offr have today launched its digital platform for buying, selling and leasing property in the UK and Australia.
Offr raises €3m in funding round led by Barclays
The funding round was led by Barclays, and included 30 Irish and overseas investors. The company had initially targeted €1 million for the funding round. It brings Offr's total funding to €4 million, with previous investors include Delta Partners, Frontli
Tech Talk Radio: Covid-busting fundraises
It's back to school this week, and what better way to get back into the swing of things than with EG's tech and global reporter Lucy Alderson, who spoke with Irish proptech start-up Offr's co-founder and chief executive Robert Hoban to discuss the company'
Offr, a London-based platform for real estate agents and buyers, raised $3.5 million in seed funding.
Barclays led the round and was joined by investors including Delta Partners on behalf of Bank of Ireland, AIB, Enterprise Irelan
How to sell a house in three months:new tech platform Offr cuts average time it takes to sell in half
A property revolution is promised for London from this month, in the shape of Offr, a tech platform that can facilitate wholly online transactions.

Global first: House is sold direct via a property portal listing for £560,000
A family house in Ireland is being claimed as the first in the world to be sold directly via an online auction on a property portal.The auction took place on Friday afternoon simultaneous on MyHome.ie, which is Ireland's answer to Rightmove, and the websit
Offr voted top 10 innovator by Kerfuffle
The Top 40 most innovative suppliers for 2020 have been revealed at the EA Masters. Kerfuffle was delighted to be Property Academys key partner for the session, helping with the research and accumulation of the final list.
PropTech Today: Five sessions from RE:Connect you need to watch
Developed prior to Covid, Offr has been successfully bringing agents and their customers closer together through the power of smartphone technology. With a simple plug-in to the agent's website, their customers can now instantly access everything they

Property Bidders Increase Steadily Month-on-Month
The number of bidders per property has steadily increased month on month, according to Offr, Ireland's most used property transaction platform, who have released real-time data on the property market for the first time. The data collected from January t