Mise sous tension de la révolution de la propriété numérique
Residential & Commercial customers can now bid, buy and complete a purchase anytime, anywhere via your website.
Voyez comment le bouton Offr se penchera sur votre site
Découvrez comment nous transformons l'achat et la vente de propriétés.
Offr utilise une technologie innovante qui permet aux acheteurs de faire des offres privées, offres dans des ventes aux enchères, visionnements de livres, preuve de téléchargement de fonds, télécharger des documents juridiques et même signer numériquement des contrats en utilisant Docusign ... sur tout appareil partout.
Regardez notre vidéo explicative
devenir transactionnel
Transformez votre site Web dans un site transactionnel en quelques minutes avec le bouton Offr entièrement personnalisé à vos couleurs de la marque. Les acheteurs peuvent alors organiser des visionnements, le lieu offre, une offre aux enchères et bien plus encore.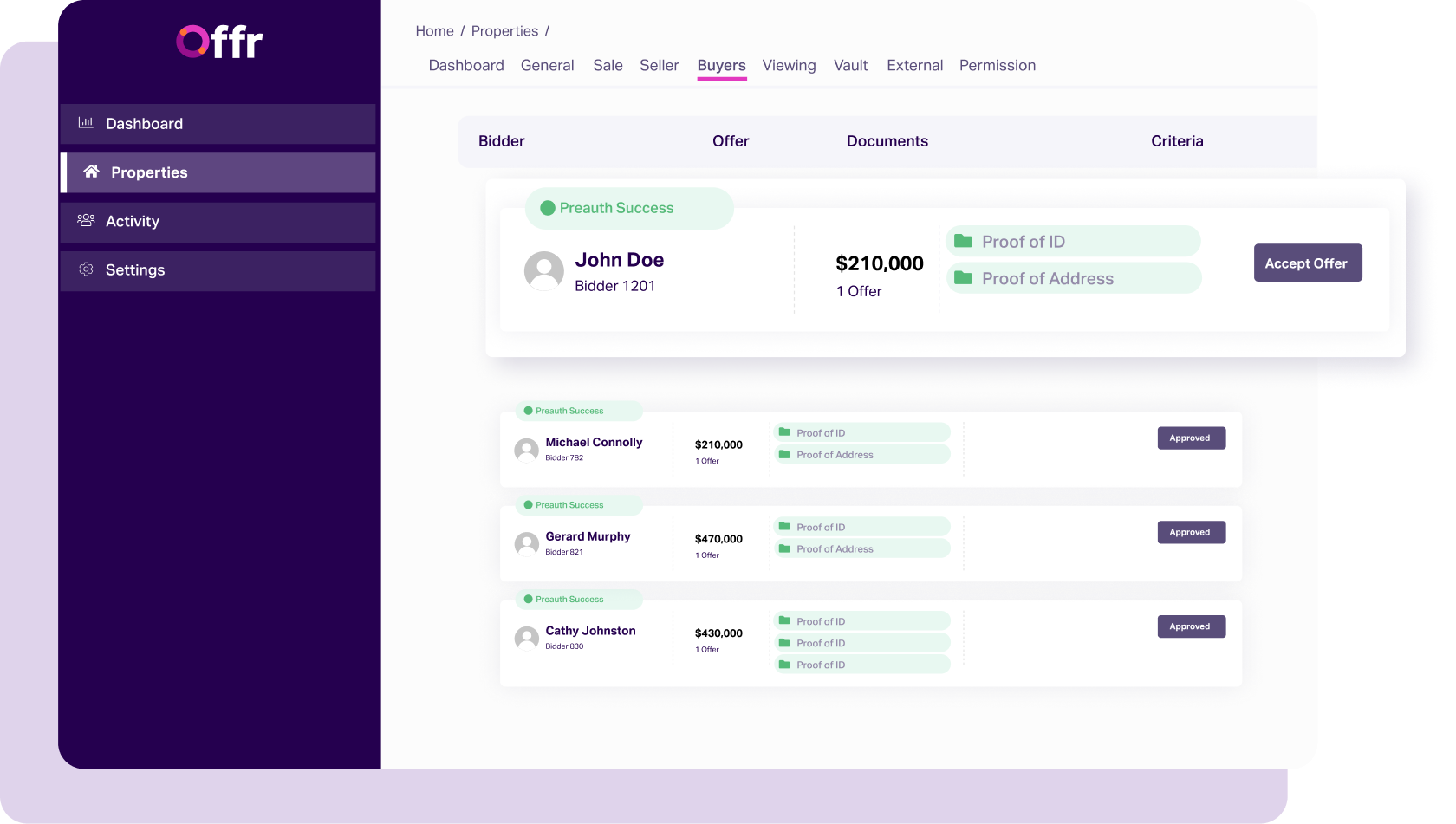 Réduire les ventes jusqu'à traiter 50% et d'augmenter la productivité
accord de l'agent envoyé et signé électroniquement
Vérifiez « Apprenez à connaître votre client » documents en ligne
emails automatisés et réponses
Signer des contrats avec Docusign
tableaux de bord en temps réel pour suivre les progrès de chaque vente
Générer un intérêt mondial
Permettre aux vendeurs et acheteurs à la fin des opérations à la fin, en ligne, partout dans le monde. Accessible 24/7, pas besoin d'attendre des heures de bureau pour réserver une visite, la source d'un document ou placer une offre.
Notre équipe est là pour vous aider et votre entreprise.
Apprenez comment organiser une vente aux enchères sur votre propre site ou vendre une propriété, de bout en bout en utilisant des technologies numériques telles que DocuSign, rayures et AWS.
Grâce à la plate-forme Offr vous pouvez gérer votre entreprise où que vous soyez!
<
Offr est pour tout le monde
Acheteurs
Faire des offres et suivre votre achat
notifications en temps réel pour les nouvelles offres
Accès aux documents juridiques
Agences immobilières
échange plus rapide
Augmentation de la productivité
Différencier votre entreprise

Avocats
Plateforme transactionnelle de bout en bout
Coffre de documents en ligne sécurisé
Facilite la collaboration
Les vendeurs
Obtenir le meilleur prix possible
Réduire les risques de chute throughs
Processus juste et transparent
Le bouton Offr
Le bouton Offr se trouve sur un site d'agents et lance un panneau qui permet aux acheteurs potentiels de soumissionner dans des ventes aux enchères, faire des offres sur les propriétés, vernissages de livres, la preuve de téléchargement d'identité et télécharger des documents juridiques.
panneau offr
Le bouton Offr se trouve sur le site Web d'un agent et lance un panneau qui permet aux acheteurs potentiels de soumissionner dans des ventes aux enchères, faire des offres sur les propriétés, vernissages de livres, la preuve de téléchargement d'identité et télécharger des documents juridiques.
Offrez un service premium à tous.
Les vendeurs peuvent suivre la vente de leur propriété sur des tableaux de bord personnels en temps réel. Les acheteurs sont tenus informés instantanément de toutes les offres, des visites à venir et des documents juridiques mis à jour. Les agents restent en contact avec les sous-soumissionnaires et maintiennent leur élan.
Panneau Offr
Faits saillants de la presse
Offr aims to remove stumbling blocks during property deals
In a sector stymied by trust and transparency issues, Offr, a new Irish prop-tech start-up, is set to revolutionise the way we buy and sell property in Ireland.
Proptech start-ups that could change the way you buy, sell and let your home
Can you remember when a property search (or even a dull Sunday) didn't involve a property portal and some armchair househunting? Technology has transformed the search and sales element of the property market, yet other tasks — such as the endless process o
'Offer management' platform to launch in UK co-founded by star agent
Created by an Irish tech firm which has recently moved its operations to London, it is backed by an investment of €1 million from two Irish banks and has been in Beta mode for the past 18 months.
Could you cut months off your deal time
Sitting on estate agents' websites, Offr will store bidders' identities and proofs of funds in advance of the acceptance of any offers, in an effort to improve the transparency of the sales process.

PropTech platform claiming to halve transaction time wins cash boost
A PropTech platform that claims to halve the time a transaction takes has received a huge cash injection from investors for its development.

BidX1 veteran Hoban's Offr accepted as he raises €3m of fresh funding
Offr, a property tech startup co-founded by former Savills and Allsop / BidX1 auctioneer Robert Hoban, has raised €3m in funding from Barclays Bank and a group of angel investors and venture capital firms.
Proptech start-up Offr secures Barclays backing for UK debut
Irish proptech start-up Offr has raised £2.7m in seed funding, led by Barclays, for its launch in the UK and Australia. Existing investors Delta Partners, on behalf of Bank of Ireland, AIB, Enterprise Ireland, The European Investment Fund and Frontline Ven

Check out the pitch deck real estate startup Offr used to raise $3.6 million in seed funding during Covid
Irish proptech startup Offr has raised a £2.7 million ($3.6 million) seed funding round from Barclays.
Offr launches digital platform in UK and Australia
Proptech company Offr have today launched its digital platform for buying, selling and leasing property in the UK and Australia.
Offr raises €3m in funding round led by Barclays
The funding round was led by Barclays, and included 30 Irish and overseas investors. The company had initially targeted €1 million for the funding round. It brings Offr's total funding to €4 million, with previous investors include Delta Partners, Frontli
Tech Talk Radio: Covid-busting fundraises
It's back to school this week, and what better way to get back into the swing of things than with EG's tech and global reporter Lucy Alderson, who spoke with Irish proptech start-up Offr's co-founder and chief executive Robert Hoban to discuss the company'
Offr, a London-based platform for real estate agents and buyers, raised $3.5 million in seed funding.
Barclays led the round and was joined by investors including Delta Partners on behalf of Bank of Ireland, AIB, Enterprise Irelan
How to sell a house in three months:new tech platform Offr cuts average time it takes to sell in half
A property revolution is promised for London from this month, in the shape of Offr, a tech platform that can facilitate wholly online transactions.

Global first: House is sold direct via a property portal listing for £560,000
A family house in Ireland is being claimed as the first in the world to be sold directly via an online auction on a property portal.The auction took place on Friday afternoon simultaneous on MyHome.ie, which is Ireland's answer to Rightmove, and the websit
Offr voted top 10 innovator by Kerfuffle
The Top 40 most innovative suppliers for 2020 have been revealed at the EA Masters. Kerfuffle was delighted to be Property Academys key partner for the session, helping with the research and accumulation of the final list.
PropTech Today: Five sessions from RE:Connect you need to watch
Developed prior to Covid, Offr has been successfully bringing agents and their customers closer together through the power of smartphone technology. With a simple plug-in to the agent's website, their customers can now instantly access everything they

Property Bidders Increase Steadily Month-on-Month
The number of bidders per property has steadily increased month on month, according to Offr, Ireland's most used property transaction platform, who have released real-time data on the property market for the first time. The data collected from January t